A rainy day turns adventurous when I take up an off-road trek along the "edge of the world" in Portugal. Shop the story.
Damn The Weather
photos and words by felicia williams // sagres, portugal // shop the story
The rain is serious. I can't count how many times I've prayed to numerous deities for it to let up. But like time and taxes, it's never stopped.
It's my fourth day in Portugal and while I am not typically the type of person to let a little in-climate weather spoil my travels, I admit I'm starting to forget how the sun works.
I'm staying at the Memmo Baleeira, a Design Hotel group property and an excellent place for me to hang my hat while at the end of the world in Sagres.
I chose Sagres over the more classically known Albufeira, after long and careful considerations on where I should spend my last days in Portugal. Both spots sounded and looked amazing, each boasting pictures of an endlessly blue Atlantic ocean, cupped by multi-coloured rock cliffs, standing tall along their coasts.
In the end I chose the quieter, less touristy and more isolated of the two towns. I had already spent my touristy time in Lisbon, exploring the densely architected city and hitting the well known sites between finding the best kept local secrets.
My aim wasn't to check off a hit list or to drink myself under the table. I simply wanted to be in a beautiful place, with breath-taking natural beauty and enough energy not to be a sleepy town, but not so much to rival my earlier city stay.
My arrival to Memmo Baleeira had all the hallmarks of a long, perfectly beachy weekend.
The cab ride from the train station was a pleasant thirty minutes and my cabbie regaled me with tales of his favorite spots in the American Midwest.
The sun was out and as we pulled up to the property, its bright rays lit up Memmo's expansive and white modernist façade.
After a quick talk with the concierge, I swept my small amount of belongings up to my room, where I found a simple yet elegantly appointed space, complete with a large private terrace where I took time to capture pics of pieces I hunted while in Lisbon.
The hotel stands isolated at the end of quiet main road and over looks a crystal blue bay and lazy fishing port. A surfer and yoga practitioner haven, Memmo provides delicious food and easy access to some of the most lovely beaches in the area.
The main street itself is lined with either surf suppliers or bars and when guests aren't heading out to catch an early morning wave break, renting a local bike for exploring or settling in for an afternoon of meditation, there are plenty of corners and crannies at Memmo for relaxing, reading and sipping porto in the sunshine.
Or at least it would, if it wasn't for the damn rain....
"You should have seen the weather last week, it was really lovely!" said one cheery hotelier.
"We've had such an excellent summer, until yesterday," lamented my cabbie.
"You just missed the best weather of the season. Too bad you weren't here literally five hours ago." said someone annoying I just made up.
You are not helping. It's time for bold action.
At 10am, after an excellent buffet breakfast and a kick back of a passible mimosa, I resolutely headed down to the front desk.
The day before I had asked after a tour of the local beaches, as the best ones weren't inwalking distance, but had missed the departure by an hour. The staff recommended a land cruiser tour for the next day (today) and I was to directed to meet my guide that morning.
The receptionist was definitely surprised to see me.
"Ms. Williams, did you want me to cancel your tour?"
"Nope. It's on."
"Uh." At this moment she looked meaningfully outside at the rain and back towards me. "Perhaps another day."
"Nope. This is the day. The last day. I'm going. Can you let the guide know?"
A few moments of rapid Portuguese later and the tour was (re)confirmed. I hadn't packed for this much rain so I grabbed a pair of overly priced flip-flops from the hotel boutique (I'm sorry Memmo, but it's true), grabbed my thin sweater, pushed my Nikon unceremoniously into my leather satchel and waited for my ride.
About 20 minutes later, I see the signature green of a Jeep land cruiser roll into the gravel parking lot, with Sagres Explorer emblazoned on the side doors. As I walked out to meet my driver, an older man with smiling blue eyes and short cropped hair hopped out and gave me a not unfriendly once over.
"I was surprised to get the call that this was still on. All my other reservations cancelled. To be honest, I thought I had the day off. Are you here tomorrow? I think the weather will be a lot be--"
"Nope," I interjected. "Today's my last day in Sagres. It's now or never. And after drooling over pictures of beaches in the area for the last few weeks, I'll be damned if I don't go see something!"
He laughed. "I'm Sandro."
"I'm Felicia."
And with that, he waved me into his Jeep.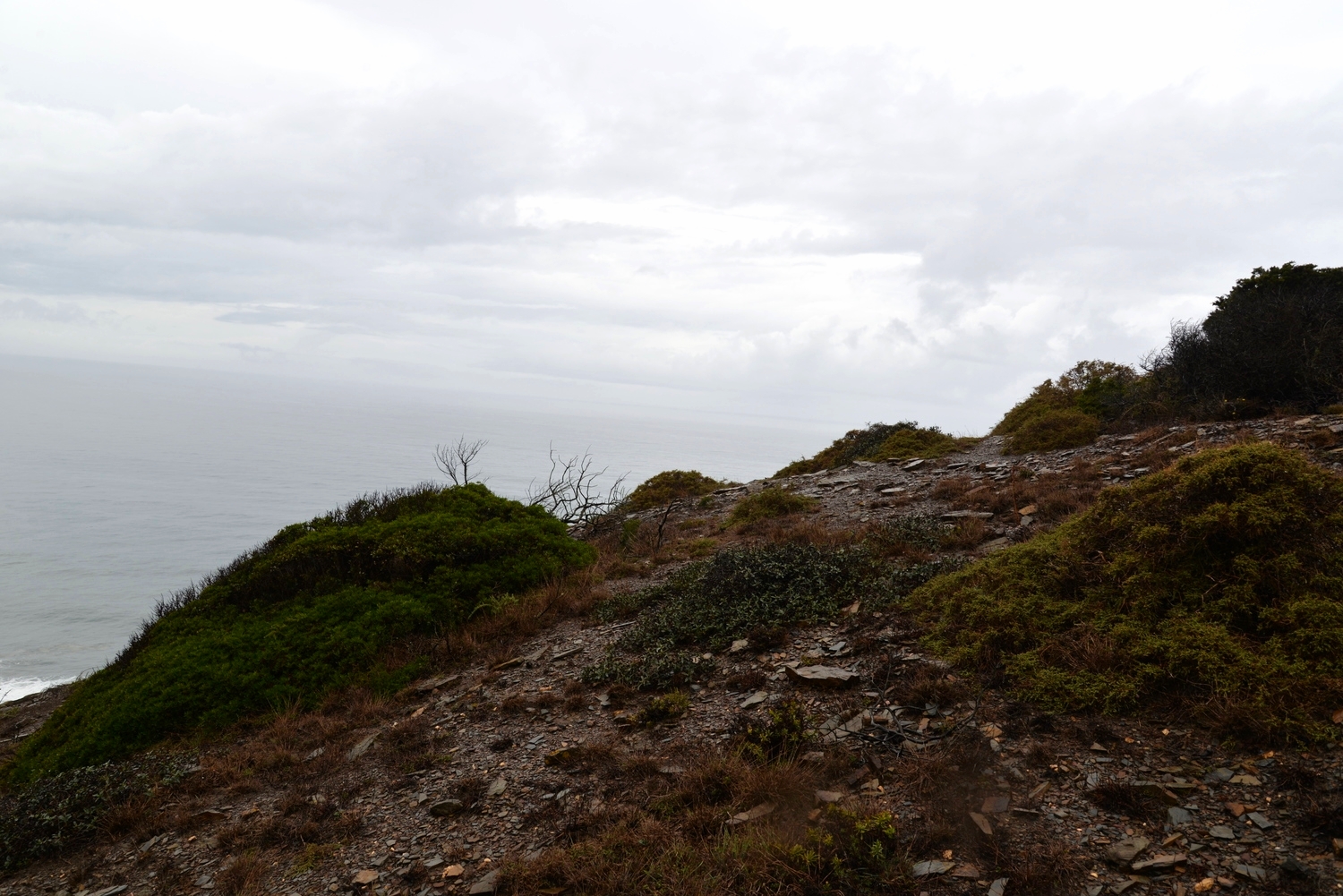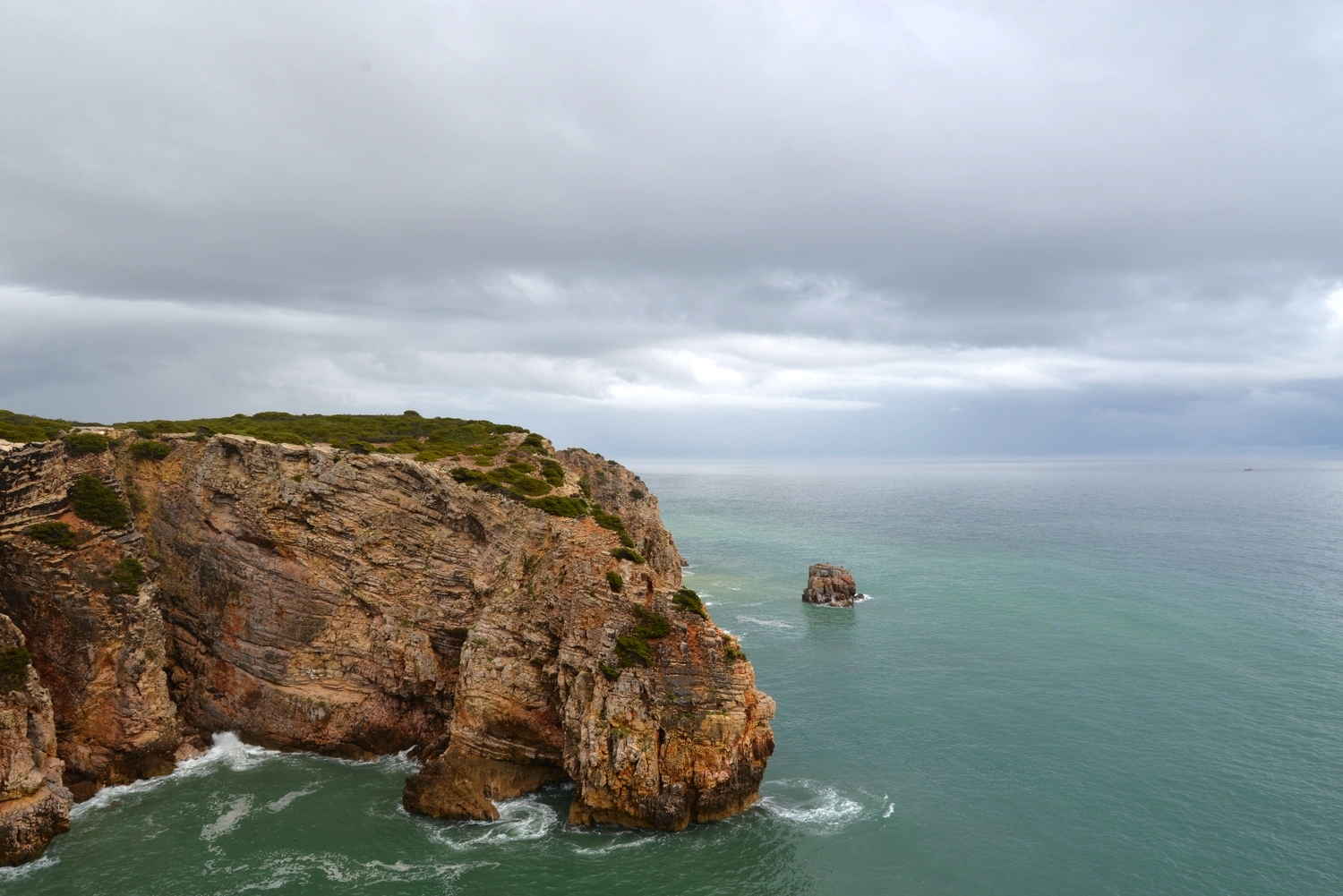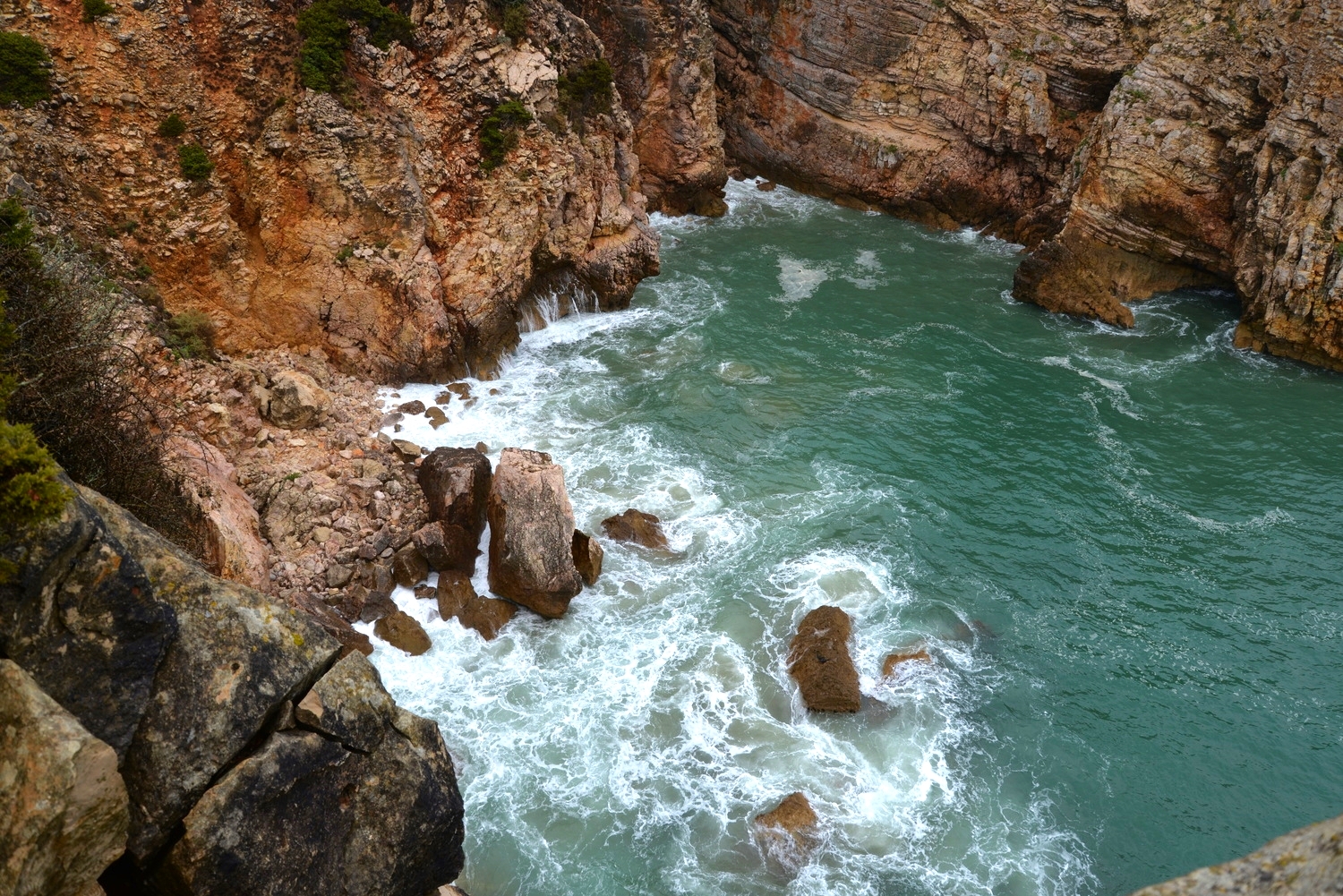 Sandro was awesome. I quickly learned that he started Sagres Discovery Tours, after falling in love with Sagres four years earlier, prompting him to move from Porto to the coast.
As we drove to the coast, he kindly pointed out various landmarks and points of interest as they zipped past my watery window. He openly shared his life's stories and passions with me and was committed to making my solo trek a worthwhile endeavor, despite the clouds.
Our first stop was the cliffs at the End of the World and the famous Cape Saint Vincent lighthouse.
For the first few minutes after we pulled up to the light house, we waited in the Jeep to see if there would be an abatement in the downpour. Sandro was becoming increasingly concerned for me, worried I would be soaked in minutes, and further more, concerned that my unprotected camera would get damaged. I, on the other hand, was becoming increasingly ambivalent on both scores and after ten minutes of hearing sheet after sheet of water pass over the metal roof, I thought, screw it, and jumped out into the rain.
I had only crappy flip-flops, an over large water proof coat shell (borrowed from Sandro) and my light cotton scarf to cover up and wipe my Nikon. I ran like a maniac from the jeep, into the light house grounds and found the cliffs choppy edge. I was indeed soaked, but I was happy and I snapped a ton of gray but personally gratifying pictures before returning to the vehicle.
The rest of the day would repeat the same comical, yet satisfying pattern.
Even with the thick blanket of gray light covering the sky and a relentless torrent of rain, the weather couldn't hold back the epic beauty of each new beach.
Sandro masterfully drove our land cruiser through deep mud, up and down terrifyingly steep inclines and along cliff hugging "roads" that just barely supported the full width of our chariot.
All our travels stared high and then wound around muddy, wet, brown, untouched roads into the depths of the landscape. I nearly squeezed my butt muscles into oblivion with fear that we'd surely fall off the edge and die here or get irreversibly stuck there. One time, I was so convinced we'd never overcome a particularly slick incline, I snapped a picture so I could potentially S.O.S facebook friends.
Amazingly, wonderfully, we powered through. The feeling was uncannily awesome and I was coming to love Jeeps as much as Sandro did.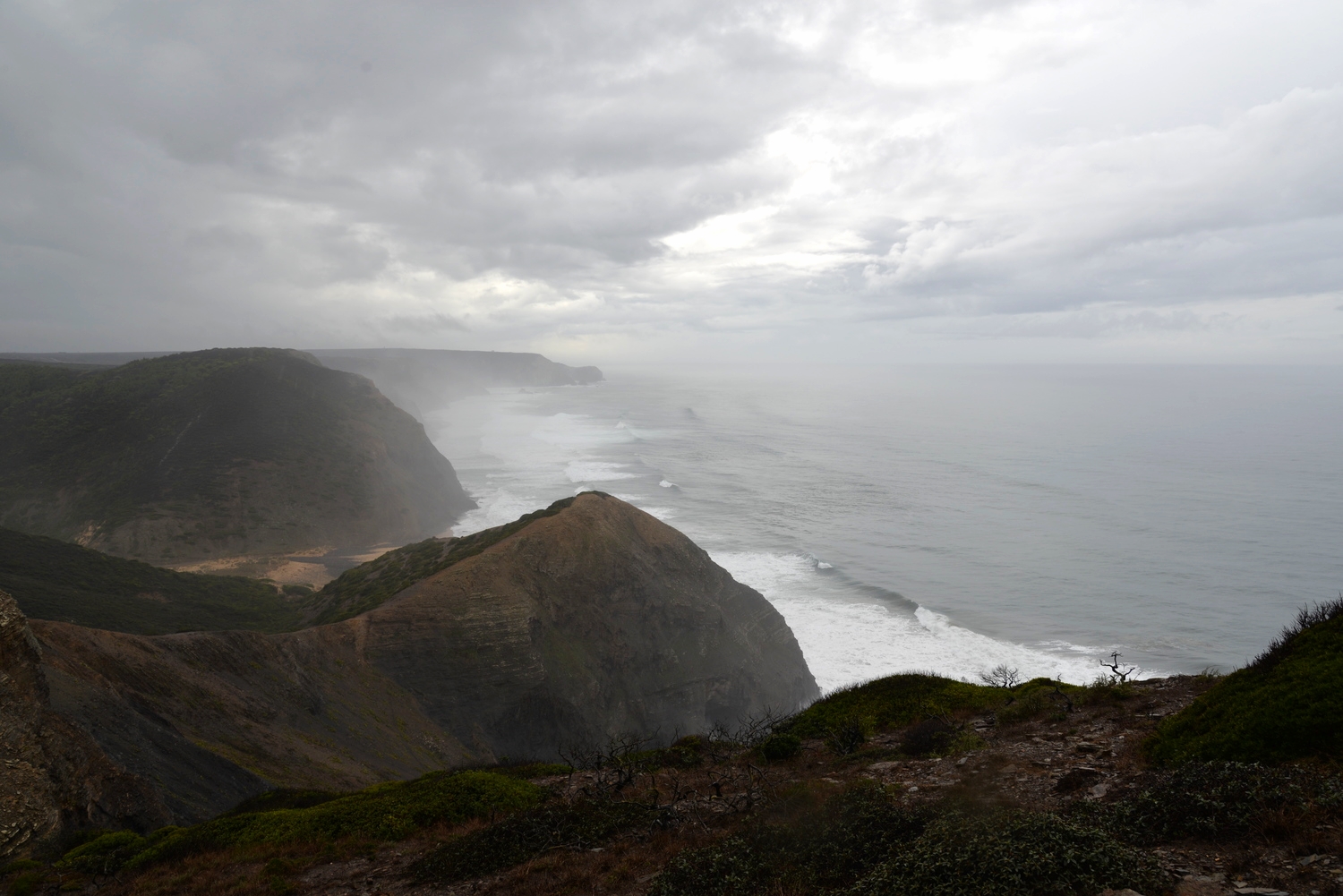 One beach in particular, Red Point was this amazing, an expansive beach, blurred by rain, but still clearly the most magnificent.
I jumped right out as soon as he told me it was okay.
"Stay where I can see you, okay? With all the rain and wind, the waves are harsh and it's hard to see. I don't want you getting swept away. It's dangerous," he grimaced at me as I practically leapt for the door handle.
"No worries, I'll be careful. I can't go too fast on these shoes anyway." I gave him my best reassuring smile.
Sandro laughed to himself and shook his head at me. "Wow, you're brave, huh?"
I laughed, too. I get that a lot and I wear it like a badge. Brave, leading by action but cautious when prudent. Risk taker. Road maker.
I jumped back in and we drove to a few other spots. The very last one I now call Sandro's Point (because it has no name). It had these spectacular cliffs made of black lava rock, that butted up against the white waves amazingly.
"Don't walk too close to the cliffs, now. Please stay where I can see you."
"Aye, aye!"
"Wanna wait to see if the rain lets up?"
"I'm good!"
It never did let up, and I never waited for it to.
At 4 p.m., as we started back inland towards Memmo, Sandro and I recapped our adventure.
"You know, I never advertise tours in the rain. They usually get cancelled or rescheduled. But after this, I think maybe I should! This was actually pretty fun!"
Thirty minutes later, we pulled up to Memmo, and like a crazy, cruel joke, the rain was letting up and, of course, the sun was coming out. We both had a good laugh over it and I rolled my eyes as hard as I could at the heavens.
After a brief good-bye hug, Sandro shrugged his shoulders at me in sign of solidarity.
"It's okay," I smiled, shaking some of the water from my hair. "I had an amazing time exploring the rainy wilderness of Sagres."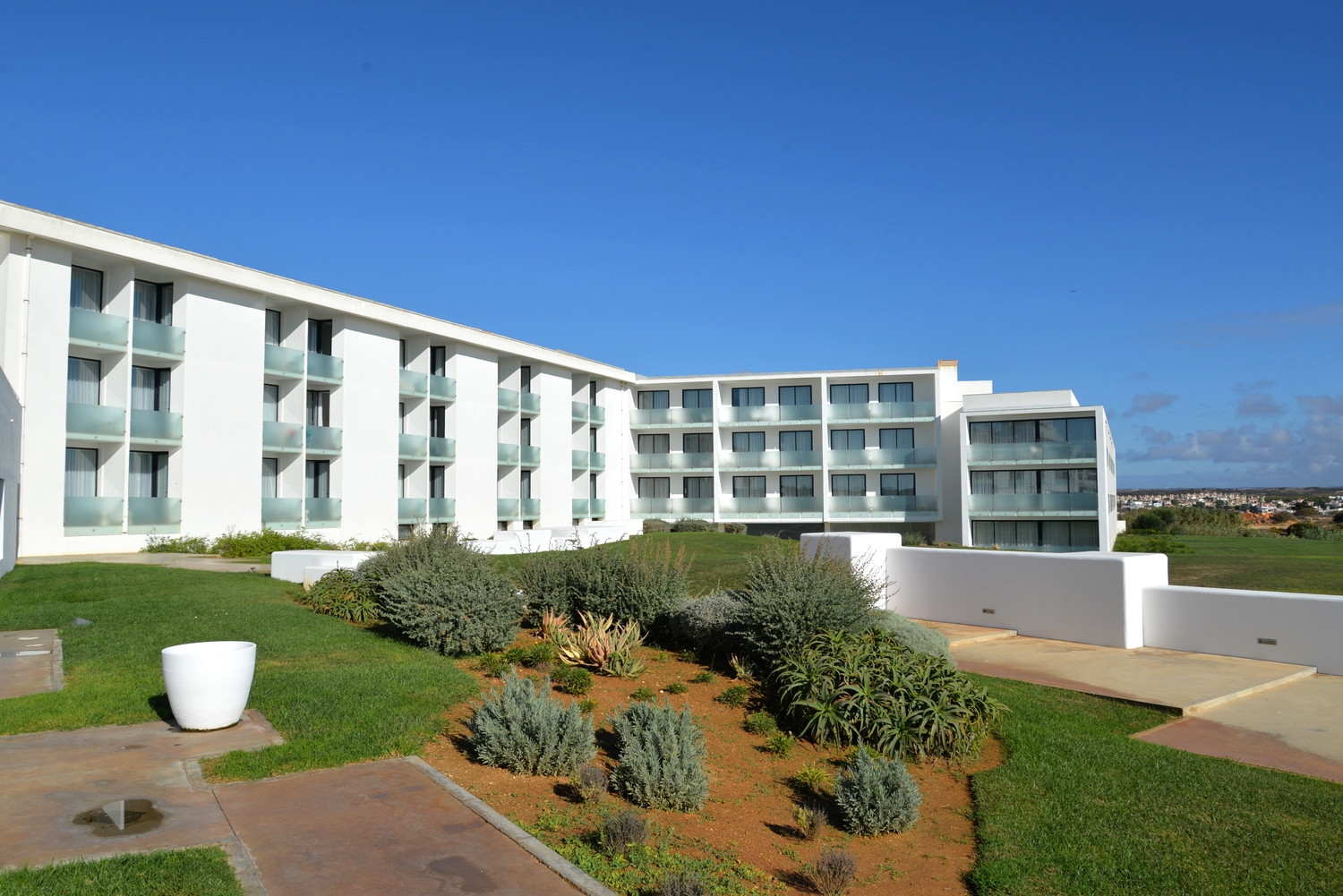 Rua do Poco s/n, Sagres 8650-375, Portugal experience // Private Coastline Tour - Customized
contact // tel +(351)914104766
Shop our limited supply of original photography prints from Portugal