A magnificent example of Arabic architecture becomes a home-away-from-home during my first days in Marrakech. Shop the story.
Behind The Unmarked Door
photos and words by felicia williams // marrakech, morocco // shop the story
The night before leaving for Marrakech, I realized that Francesca and I had the same connecting flight through Spain.
I sent her a brief email, letting her know I was excited to meet her there the next morning.
After touching down in Madrid, I paused randomly at one of the many over-sized flight screens and searched for my plane. I glanced casually at the woman just ahead of me and remarked internally how familiar the back of her shoulders looked.
"Francesca?"
The woman whipped around and I was suddenly face-to-face with my best friend after a year apart. We both broke into huge smiles, hugged and joked about how movie like our meeting was.
She was a bit jet lagged from having traveled nearly sixteen hours from NYC, and I was a bit miserable from the rains in Spain, but after a short flight, we landed in Morocco, bright eyed-bushy tailed, adrenaline pumping in anticipation of our new adventure.
I look up to the clean, white rafters of the terminal and smile. The airport of Marrakech is very pretty! It was surrounded with luscious flowers and charming architecture.
The riad I booked had provided us a driver from the airport and he met us there, happily, and welcomed us to Morocco.
After exiting customs (and increasing our cash-in-hand) we three made our way down the long road into the city.
My French, a skill unexercised in my current home of Seattle, made a magnificent resurgence in Africa. It felt so good to flex this muscle (as small one, but still viable). Hesitant sentences turned into flowing conversations and I beamed inwardly at having still retained something of my crash course to French while living and traveling through Québec and Paris.
All along the road, our driver kindly pointed out the sites and gave us advice on his favorite places in the Medina and new city.
He explained that the old city (where we were headed) was surrounded by high walls. This is where the souks, riads and the oldest mosques were. Passing through the entrance to this ancient city, we traveled a few minutes more and arrived at the end of a walking only corridor.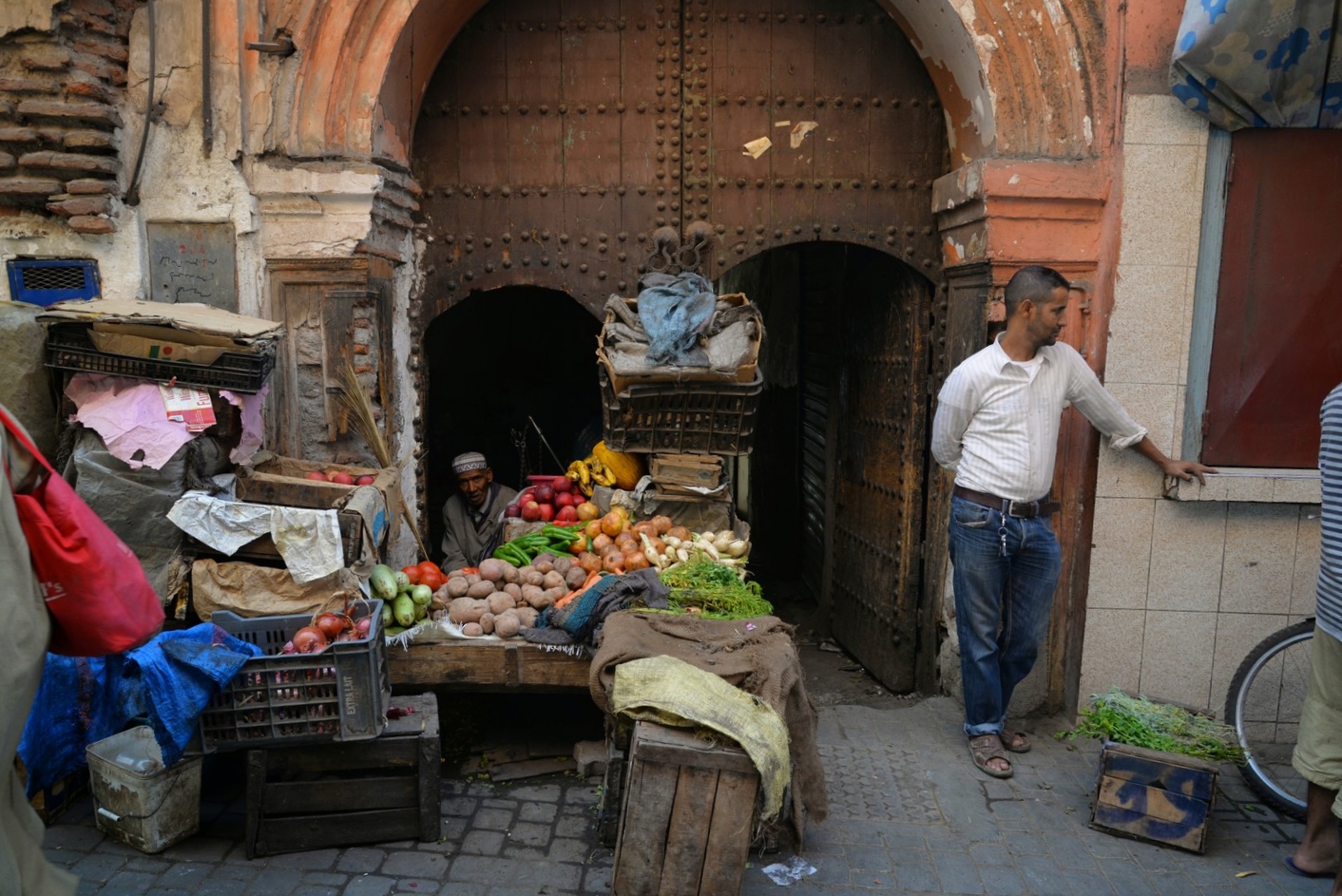 Exiting the car, a second man placed our bags into a wheelbarrow, shook hands with our driver, and began leading us into the maze of the medina.
A left turn here, a right turn there. We passed a row of open stalls: a leather goods seller, silver work, a ceramicist, a fruit and vegetable stand. Each turn lead us down another corridor of high mud brick walls, its construction non-descript with little to-no-markings to be seen.
Our attendant explained that in the Arabic culture, the beauty of the home is displayed on the interior, leaving the outside of the home plain and humble. Riads (which comes from the Arabian term for garden) are inward focused, architected with a large courtyard at its center, which allows for privacy (especially for women) and gives protection from the weather.
"Here we are, mademoiselles"
We were stopped at a large, wooden door, with a small brass '72' marked on the exterior. The attendant knocked and we waited with baited breath. The sliding of locks and the creak of hinges greeted us, and out popped a small young woman, who gave both Francesca and I kisses and ushered us into our new home.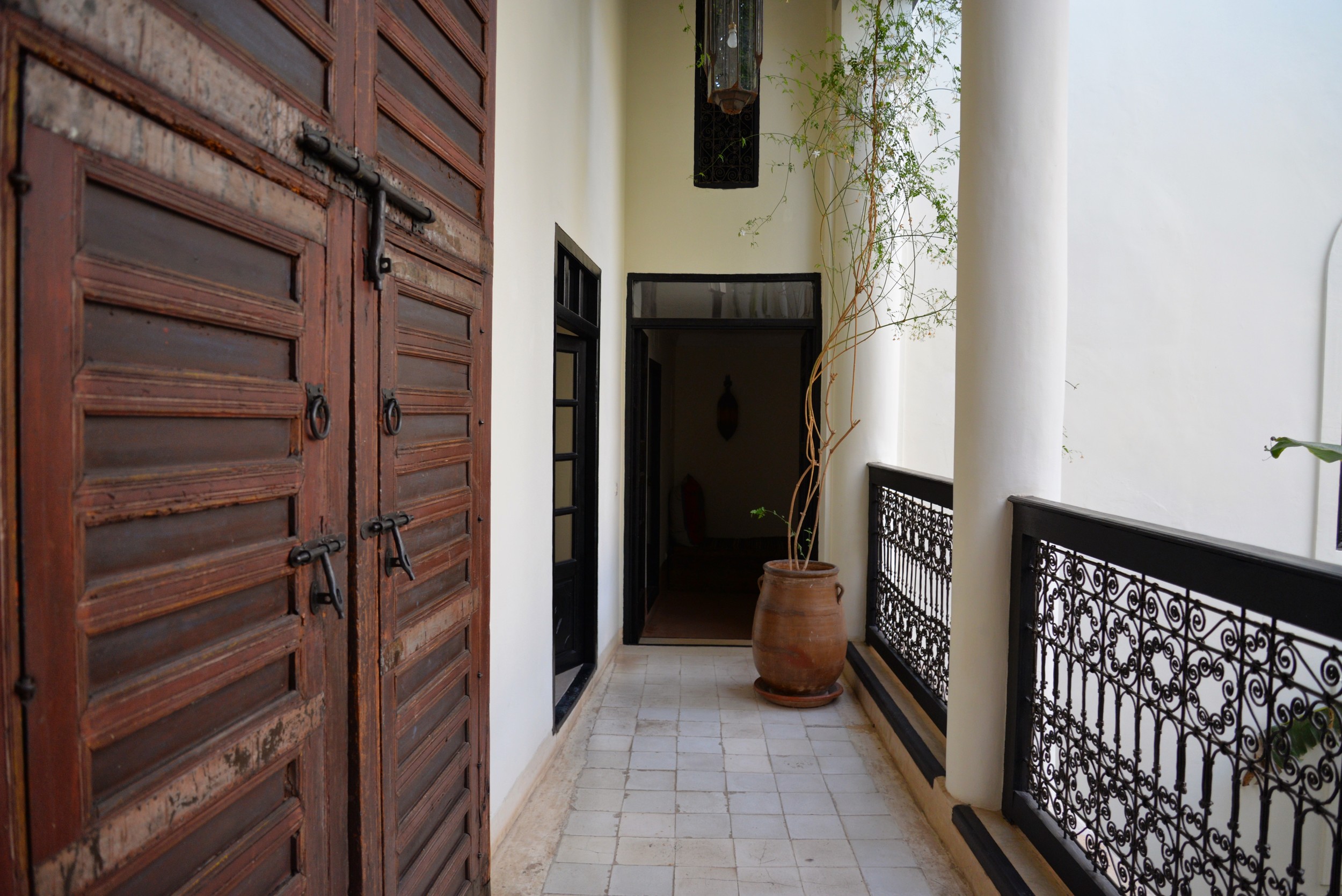 Aaaaaaah, Riad 72! How absolutely amazing.
The place was stunning. So well appointed with a great mixture of modern touches and Moroccan style. The garden was tall and over grown with large banana trees and the furniture was simple but plush. A large, bubbling fountain sat central to the interior garden and above it, the sky opened into a blue heaven against the white sandstone walls.
Stefania, the amazingly stylish Italian manager who had greeted us, introduced us to Rashid, the attendant on property. We were invited to sit in two comfortable chairs and have our hands washed with a warm water infused with orange essence. After that, we headed directly to the top terrace and discovered a beautifully appointed lounge area, ready for us to relax and unwind.
Leaning over the terrace edge, we scanned the bright blue sky and marveled at the red city of Marrakech rising up around us. We immediately ordered a bottle of champagne (because why not) and sipped lightly while we awaited our meal.
Oh the food...
When the courses started to arrive our jaws dropped. Multiple types of breads. Multiple styles of appetizers. Multiple flavors of meats. Multiple, multiple, multiple! Every flavor, every morsel was amazing! Quickly, the tagines arrived: one with lamb and one with beef. Both were so juicy, so savory, so absolutely stunning. We laughed, drank, ate and were very, very merry :)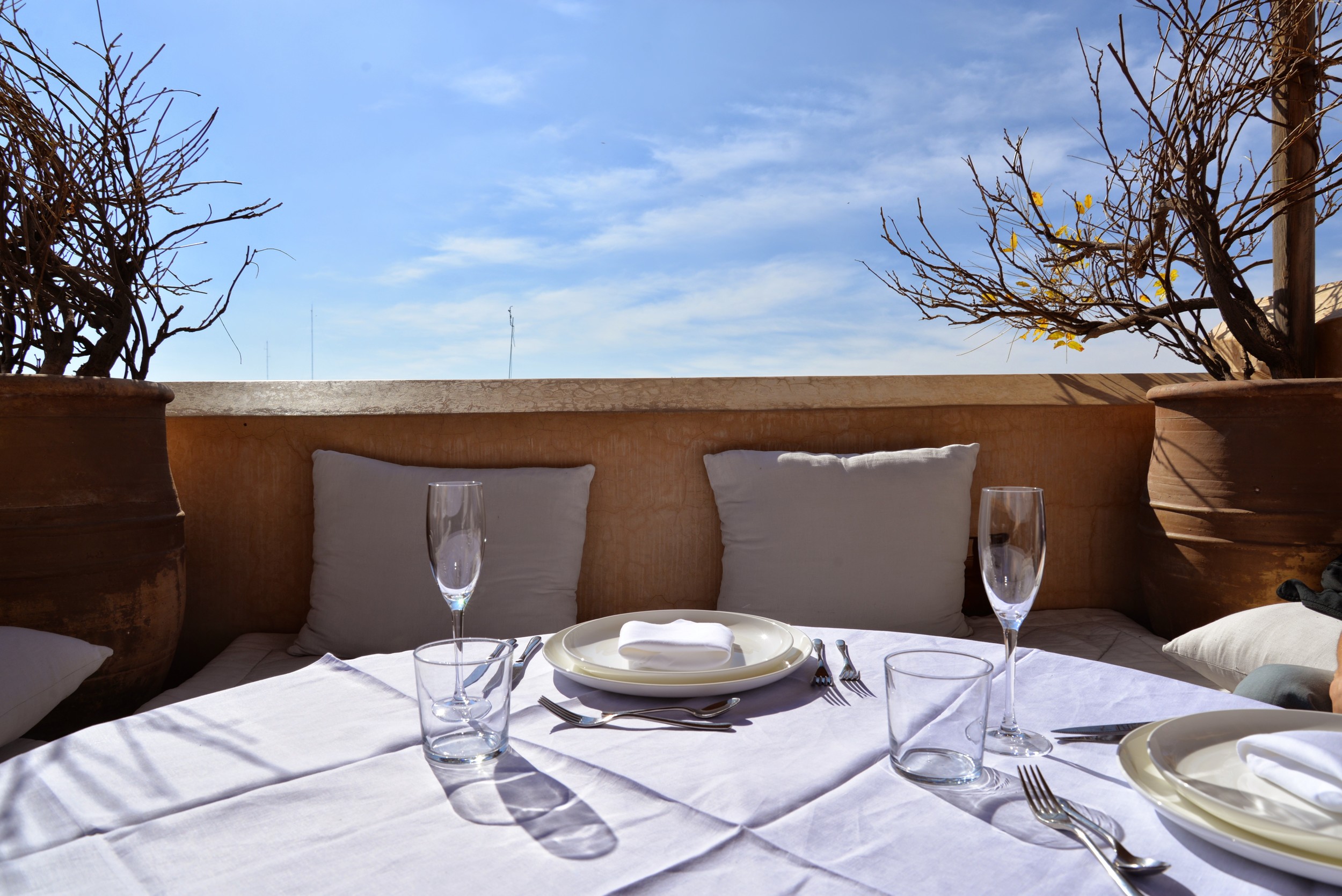 Afterwards, with the sun beginning to set in the heavens we finally retire to our room. It was beautiful.
The walls and floors were gray poured concrete which contrasted beautifully to the soft white sheets and lovely wooden doors throughout.
The space was dripping with lovely details including horn hooks, a bespoke stone shower sink, and private terrace to look over the pink sky.
Later that night, we ventured out of the maze and into the large, open air souk of Jemmal square.
Our surroundings were teaming with people, buffeted by a string of brightly lit stalls and the now familiar sound of vendors selling their wares.
We paused briefly to capture the scene, glanced curiously over some of the goods and chatted with a handful of locals.
After a few hours of adventure we headed back, thoroughly exhausted, to Riad 72. Curled up in our beds, we smiled, spoke softly and eventually drifted to sleep.
In the distance, a mosque began the solemn call to prayer. It cried out softly over the city, washing through it like water, and folded gently into the night.
72 Arest Awzel Bab Doukkala, Marrakech, Morocco | Stay Itinerary: 3 days and 2 nights in the MAHA Classic room (includes private terrace)
contact // http://riad72.com/
tel +212 (0) 524 387629
Our Favorite Story Worthy Finds from Morocco, Marrakech